Studio With Ashley Walters


Statis sets off with Dj Nikki & Kevin Mathurin for the cast and crew screening of a new feature film - Transhuman.
Kevin has a major role in this thriller feature film directed by Nicholas Winter which is set to launch at LIFF,
the London Independent Film Festival, along side the legendary Steven Berkoff and Michael McKell, Marc Bannerman,
Toyah Frantzen, Natasha James & Rebecca Scott. The trio head down to the Whirled Cinema for this very intimate
first ever viewing of the film and feel privileged to be getting to watch with the cast and crew as they see
the finished product for the first time.
Studio With Ashley Walters. Statis Beatnik starts the day off with an early brunch at M1LK in Balham with
sweetcorn fritters, halloumi and hash browns before rushing back to the studio to do a days recording with
So Solid legend and star of Topboy........Ashley Walters AKA Asher D! After a long recording session and a hard
days work there is just time to grab a quick pizza at Franco Manca before Statis has to meet up with Dj Nikki
and head into Soho for a 5 hour long DJ set at infamous nightclub The Box!


Ashley Walters Website
Ashley Walters Twitter
Ashley Walters Instagram
M1LK Website
M1LK Twitter
M1LK Instagram
Franco Manca Website
The Box
To Book Statis to DJ email statis@beatniktv.com








Starbucks Interactive Event


Starbucks Cold Craft Interactive Event. Statis Beatnik heads into Shoreditch to attend a Starbucks interactive
event where he is taken through a coffee based tasting menu, crazy rooms filled with balls, games and even a
fluffy relaxation room before trying out their new cold craft brew!


Starbucks
To Book Statis to DJ email statis@beatniktv.com








Speed Boat On The Thames - London


Speed Boat On the Thames in London with ThamesJet. Statis Beatnik takes a break from his DJ schedule and heads
off into central London for an Instagram meet up that culminates by speeding along the Thames on a Jet Boat!
First though is photography around Tower Bridge and up to the top of the Citizen M hotel to get amazing panoramic
views of London's architecture including the Gherkin, Walkie Talkie, Shard, Mayors Office, Tower of London,
Tower Bridge, Canary Wharf, Thames and more! Then the instagrammer group jump on the tube down to Westminster Pier
to get kitted out in waterproofs and jump into the Thames Jet boat. After a nice leisurely bit of sightseeing and
photography the Jet Boat then accelerates and twists and turns its way down the Thames like a white knuckle
thrill ride. After amazing ride its back up the river with ore chances to take amazing shots of all the buildings
and monuments before its back on dry land and time for a well earned drink!


Thames Jet Website
Thames Jet Twitter
Citizen M Hotel Tower Bridge
The Hispaniola
To Book Statis to DJ email statis@beatniktv.com










Art Treasure Hunt - London - Dom Pattinson


Statis Beatnik sets off across London on an Easter Egg Treasure Hunt chasing the chance of bagging a piece from
world famous artist Dom Pattinson. Statis starts down at South Bank where the first clue he has deciphered to be
in the area and as the Hayward Gallery is in that vicinity he takes a punt that it might be near that. He scours
the area and just narrowly misses the first piece by going to the wrong yellow stairs! Next clue then leads him
down to the Globe theatre and as it is next to the Tate Modern he decides that the work might be in between the
two. Sadly Dom put the artwork at the original Globe and so Statis missed out again! Next clue comes and its
leading everyone north over the wobbly bridge to St Pauls Cathedral so its a quick hop over the Thames but as
he arrives the artwork has already been claimed by a luck couple! Next clue is about fire and columns so its
off to Monument and once again Statis is foiled as the artwork has gone before he even gets near! For the last
clue he is joined by a beautiful assistant and the pair head up into Shoreditch and then Spittalfields but once
again narrowly miss out on getting the art. After a great fun day out Statis heads down to grab some of his
favourite empanadas in borough market......art and food, what could be better!


Dom Pattinson
Dom Pattinson Instagram
ZebraOne Art Gallery
Southbank Centre
Hayward Gallery
Globe Theatre
St Pauls Cathedral
Monument
Spittalfields Market
Borough Market
Portena - Empanadas
Spice Mountain
To Book Statis to DJ email statis@beatniktv.com








Photoshoot In Greenwich


Statis heads off to greenwich park for a photoshoot for a brand and while he is there grabs some great shots of
the area. Sadly, contractually Statis wasn't allowed to show any of what was being worked on. After shooting in
the flowers and trees it was off down to the Maritime Museum and Naval Academy where he does a little exploring.
For lunch its a super fast run around Greenwich market before a quick scout of the
Cutty Sark and then back to the shoot.


Greenwich Market
Royal Museums Greenwich & Cutty Sark
Old Royal Naval College








TRANSHUMAN Film Screening


Statis sets off with Dj Nikki & Kevin Mathurin for the cast and crew screening of a new feature film - Transhuman.
Kevin has a major role in this thriller feature film directed by Nicholas Winter which is set to launch at LIFF,
the London Independent Film Festival, along side the legendary Steven Berkoff and Michael McKell, Marc Bannerman,
Toyah Frantzen, Natasha James & Rebecca Scott. The trio head down to the Whirled Cinema for this very intimate
first ever viewing of the film and feel privileged to be getting to watch with the cast and crew as they see
the finished product for the first time.

TRANSHUMAN
dir: Nicholas Winter
THRILLER: After a dangerous trip to Africa, investigative journalist Alex Black returns home to discover her friend
Cassie has gone missing. Alex, suspicious of coincidence and worried for her friends safety sets out to find her,
but what Alex discovers leads her deeper into the horrifying machinations of a Trans-humanist cult hell bent on
destroying the world.


Beatnik Website
Beatnik YouTube Channel
Beatnik Google Play
Beatnik Bandcamp
Beatnik Twitter
Beatnik Instagram
No Request T-Shirts
To Book Statis to DJ email statis@beatniktv.com


Book Tickets to see TRANSHUMAN here
Kevin Mathurin
Whirled Cinema








Art & Design In Camden


Statis heads of to one of his old haunts of Camden Town to visit a collective of bloggers and vloggers who are holding
an event called the Bloggers Market. The collective of bloggers including Kristabel (I Want You To Know),
Lucy (Shiny Thoughts), Carrie (Wish Wish Wish), Olivia (What Olivia Did), Kim (Love Cloth), Zoe (Zoe London),
Reem & Natalya (Five Five Fabulous) all joined forces to put on workshops and sell off lots of their goodies. Workshops
were run in diverse subjects such as Marbling (Pup Tart), bullet journaling (Ghenet Actually),
brush lettering (The Lovely Drawer) & mini-treatments (Boudoir Beauty Parlour). The lovely treats and drinks were
provided by Sugar Spin & Honeywell Bakes with drinks from PACK'D and Nix&Kix. Statis queues up to get The Lovely Drawer
to do a beautiful hand scripted version of the Beatnik name before jetting off for lunch up in Finsbury Park.
Continuing his search for the best cheap eats around London Statis was trying to find some great couscous and had been
pointed in the direction of Le Rif cafe so while he was in the area he decided to pay the place a visit. Statis tries
the beef and potato couscous and the vegetable cous cous before heading back into camden to try out the only
Liquid Nitrogen ice cream makers in the UK, Chin Chin labs. Sadly half of london has had the same idea so he has to
queue outside before ordering the salted caramel flavour with salted caramel suace and a sprinkle of hazelnuts.
Statis enjoys the ice cream as he walks the canals of Camden and then manages to find some of the best street art
and graffiti in London on Hawley Mews. After a quick guided tour of the artwork and a few snaps for instagram
Statis heads off past the colourful houses back home.


Beatnik Website
Beatnik YouTube Channel
Beatnik Google Play
Beatnik Bandcamp
Beatnik Twitter
Beatnik Instagram
No Request T-Shirts
To Book Statis to DJ email statis@beatniktv.com


I Want You To Know
Shiny Thoughts
Wish Wish Wish
What Olivia Did
Love Cloth
Zoe London
Five Five Fabulous
Pup Tart
Ohh Deer
Ghenet Actually
The Lovely Drawer
Boudoir Beauty Parlour
Sugar Sin
Honeywell Bakes
PACK'D
Nix&Kix
Chin Chin Labs










How To Get Inspired Around London


Statis sets off on a day of inspiration gathering for some new design and creative projects he needs to do research for.
As with everything creative research is always a huge part of the process and so Statis devotes a lot of time to going to
creative places of all types and soaking in as much information as possible. He begins this research vlog in Stratford,
East London, at an amazing cactus shop called Geo-Fleur. They have a stunning selection of cacti and amazing knowledge and
sell only on weekends as during the week they hire their cacti for photo and video shoots. From there its a quick hop into
Soho, Central London, for a bite to eat at Wagamamas new location on Dean Street for some Ramen, Tempura Shrimp and Gyoza
before some drooling over cakes at L'Eto and Crosstown Doughnuts. Next its a dash through Soho down to the Marian Goodman
art gallery, just off Golden Square, to see the John Baldessari exhibition Miro and Life in General. Finally Statis heads
down to the Lotus cars shop on Picadilly Circus to check out one of his life long passions and all time favourite car
brands. He takes mental notes and soaks in all their design history before heading off to put into place some
of what he has imbibed.


Beatnik Website
Beatnik YouTube Channel
Beatnik Google Play
Beatnik Bandcamp
Beatnik Twitter
Beatnik Instagram
No Request T-Shirts
To Book Statis to DJ email statis@beatniktv.com


Geo Fleur
Wagamama
L'Eto
Crosstown Doughnuts
Marian Goodman Gallery
John Baldessari
Lotus Cars








How To Start Producing Music


Statis gives a beginner's guide to how to start producing music. He gives an overview of the very limited equipment needed to
start becoming a music producer and then runs through a very easy tutorial to show how simple it is to get started making a
beat and producing your first song. He shows how to construct a few very simple beats and gives a simple example of how small
changes to the structure of that beat changes its genre. He then shows how to add a very simple piece of instrumentation and
create a melody. This tutorial is meant for people who are interested in music production but don't know where to begin so
they can get an understanding of the fundamentals and how easily they can take the first steps to start on the journey of
making and producing music.


Beatnik Website
Beatnik YouTube Channel
Beatnik Google Play
Beatnik Bandcamp
Beatnik Twitter
Beatnik Instagram
No Request T-Shirts
To Book Statis to DJ email statis@beatniktv.com








Whats In A DJs Bag

Before his DJ set at Ronnie Scotts, Statis runs through what equipment he takes in his DJ bag for a club DJ set. As he DJs with
Serato there are all the standard expected pieces of equipment as well as a few that you might not have expected. He goes on to
list all of these items that he squeezes into his DJ Bag:

Macbook Pro, Laptop Case, Laptop Stand, 2 Serato Vinyls, Serato CDs, 2TB Hard Drive, 2 Cables, Macbook Power Supply,
Serato SL2 Box, Serato Bag, USB Cable, Sennheiser HD25 II Headphones, 2 Headphone Jacks, Shure SM58 Microphone, XLR Cable,
Loads of Stereo Cables, 4 Stanton Cartridges, 4 Stanton Stylus', Extra Cables & Adaptors, Phone Charger, Phone Charger Cable,
USB Key, Canon EOS M, Camera Bag, 5 Canon Batteries, 128 GB SD Card, 32 GB SD Card, 4 AA Batteries, Ring Light & Business Cards.

After a quick overview of his actual DJ bag and its various pockets he then packs everything back into the bag and sets of to
Soho in Central London. He wanders through the back streets of Soho and into Ronnie Scotts where he sets up and plays a warm
up set before the Soul Boys perform one of the most energetic hour and a half shows Statis has ever seen. He gets trapped
behind the band but manages to escape after a while and then has to return and get back behind the decks again to begin his
3 hours DJ set. This goes down a storm and everyone has an amazing time and parties until they are all exhausted. After a job
well done Statis packs his bag up again and sets off through Soho back to his car and off home for some well earned rest.


Beatnik Website
Beatnik YouTube Channel
Beatnik Google Play
Beatnik Bandcamp
Beatnik Twitter
Beatnik Instagram
No Request T-Shirts
To Book Statis to DJ email statis@beatniktv.com








Why Business Cards Matter

Statis outlines why it is so important to have business cards for your business and why business cards matter, even in this
highly digital age. He focuses on what you should consider and the steps needed when creating business cards for a DJ, Producer,
Designer or Entrepreneur. He covers why business cards are so important for small businesses/self employed people and for DJs
specifically when in the middle of a set and someone wants to book you then a business card is an invaluable tool so you don't
have to stop and try and give them information while you are busy and with loud music playing. Then he looks into the stages
that should be considered when planning how to design business cards, print business cards and make business cards in general.
Statis moves on to how to make business cards and discusses standard business card sizes and paper weight (GSM) before reviewing
the new Impakt Coloured Core 800gsm High Quality business cards that have just been delivered to him from the printers to see
how this new print run compare to his previous 350gsm cards.


Beatnik Website
Beatnik YouTube Channel
Beatnik Google Play
Beatnik Bandcamp
Beatnik Twitter
Beatnik Instagram
No Request T-Shirts














Best Burger In Central London

Statis has some missions to run in central London so heads out to vlog it all. First up he has to deliver some footage to a film
production house in Soho that he has been working on. As he has a little time to spare while they upload the footage he decides
to pop into one of his favourite Burger restaurants for lunch. Patty & Bun keeps up to its great reputation and serves a beautiful
burger and fries and once its been demolished Statis picks up his SD card and heads onto his next mission. After a quick perusal
of some cacti he heads down to Apple Macs flagship store on regent street to pick up a new Magic Mouse 2. Then before its back
home to work he stops by Whole Foods to grab some healthy food to make up for his earlier burger indiscretion.

Patty & Bun
Urban Outfitters
Apple Mac
Whole Foods

Beatnik Website
Beatnik YouTube Channel
Beatnik Google Play
Beatnik Bandcamp
Beatnik Twitter
Beatnik Instagram
No Request T-Shirts








Best Driving Road In The UK

Statis heads off for a meeting in one of London's premier members clubs located on St Martins Lane in Covent Garden.
The Library is a lovely place to escape the hustle and bustle of London for meetings, drinks, partying, dinner in the restaurant
or even to stay in one of their 6 boutique hotel rooms. After a successful meeting and a very quick tour of the place Statis
then has to wander up to Soho to attend a special event put on by Hyundai. They are showing off all their new design ideas and
the future of car design including their Ioniq electric car range. Focusing on the five sense that are so important to all design
they take statis through sight, hearing, touch, taste and smell and how they design their cars with these senses in mind for the
ultimate user experience. From the polls they had taken Statis was most interested in the ultimate driving playlist and best
driving road in the UK. There were also hugely interesting talks from their design team about fabric technology and scent creation
as well as a 3D printer creating peoples heads out of chocolate! Statis always loves to see the new developments in design and
technology to inspire what he is working on but when it comes to cars specifically then he is as
happy as a pig in...........well you know what comes next.

Hyundai
Ioniq
Library London

Beatnik Website
Beatnik YouTube Channel
Beatnik Google Play
Beatnik Bandcamp
Beatnik Twitter
Beatnik Instagram
No Request T-Shirts








Best Design Ever

Statis finally finds time to go and visit the new Design Museum in it's new home in a beautifully designed building in
High Street Kensington. He tours the museum admiring its beautiful interior and taking all the amazing product design on
display. Some of his favourite pieces are: Technics 1210, Gameboy, Canon Super 8, Canon DSLR, Skateboard, Walkman,
Adidas Stan Smith trainers, Mac, ZX Spectrum and so much more. He heads straight over to admire the section devoted to
his all time favourite designer Dieter Braun which they have now located next to a shrine to Apple Mac and Johnathan Ives.
There are of course a few references to cars and particularly VW but no MK1 golf or Jaguar E-Type like they used to have
at the old location. After a whistle stop tour of all the exhibits Statis grabs a few shots within the stunning architecture
and interior design of the building itself before a quick visit to the gift shop!

Design Museum Website

Beatnik Website
Beatnik YouTube Channel
Beatnik Google Play
Beatnik Bandcamp
Beatnik Twitter
Beatnik Instagram
No Request T-Shirts








How To Sell Music Online

Statis gives an overview of how Beatnik go about creating and preparing their music ready to be uploaded for sale online by
walking through the process behind their new release, Chromatone - Fever (Beatnik Remix). He covers preparing the files,
embedding the ID3 tags & artwork, uploading to an ftp, creating a video for YouTube, uploading to YouTube (including titles,
description, tags, end screens & cards) and uploading to Facebook (tagging & descriptions). Once the videos are finished then
its onto uploading the music to selling sites Google Play & Bandcamp. Next its onto the social media sites including Instagram,
Twitter, Google+ to promote the track and video through all the direct download links. Next its onto embedding the video on the
Beatnik website and Statis Beatnik blog before focusing on the mail out. Statis does an overview of the elements in the
Mailchimp email including artwork, links and videos before he sends out to the Beatnik mailing list of thousands of DJs,
Radio Stations and Bloggers.

Before all of these tips, Statis goes over all the digital and print designs he has been working on for advertising and
marketing collateral as well as the campaign for the No Requests DJ T-Shirts. These include Business cards for both
Statis & Dj Nikki with free download links, Facebook banners, Facebook Profile pic, Facebook Adverts, Download Designs,
T-Shirt Adverts and Artwork Designs for the new Remix.

Finally Statis dashes off to Covent Garden to DJ at the WUN magazine party being held at Library members club.

Chromatone - Fever (Beatnik Remix) - Google Play
Chromatone - Fever (Beatnik Remix) - Bandcamp

Beatnik Website
Beatnik YouTube Channel
Beatnik Google Play
Beatnik Bandcamp
Beatnik Twitter
Beatnik Instagram
No Request T-Shirts








Beatnik on Talk Radio - Music Review - Drive Time with Yasmeen

Statis heads to Talk Radio for a music review slot on the Drive Time show with Yasmeen. En route though he stops off quickly
in Hyde Park to visit a video installation piece in the Serpentine Gallery before wandering past the swans and then heading
down to Southwark. He is quickly ushered into his seat alongside fellow guest and musician Ajay Srivastav and the show begins.
On the show Statis reviews Becky Hill and Shift K3y's single 'Warm' as well as the new collaborative release from Dj Fresh,
Diplo, Craig David, R.City & Selah Sue called 'Bang Bang'. For the full review click the link below. When the show is finished
the legend that is George Galloway arrives to take over the studio reins and is quizzed on his knowledge of Jungle but
professes a love for Tamla Motown instead. After this amazing little interlude Statis heads off back to the studio!

Full 'Music Review - Talk Radio - Drive Time with Yasmeen' interview here
Talk Radio
Ajay Srivastav
Yasmeen Khan
Serpentine Gallery
Hyde Park








TWELVEOEIGHT MCCVIII - Will.i.am & Carl Gilliam Trainer/Sneaker Launch

As part of LFW (London Fashion Week) Beatnik head off to support the launch of luxury trainer/sneaker brand
TWELVEOEIGHT MCCVII the brain child of brothers Will.i.am and Carl Gilliam. Dj Nikki & Statis head to the ICA on Pall Mall
to celebrate the launch of the brand named after the projects the brothers grew up in. With the models surrounded by
onlookers showing off the designers creations and Art Comes First supplying the music Will.i.am then took centre stage
for his pics before the party kicked off.

TWELVEOEIGHT MCCVIII
ICA








No Commission Day 2 - Swizz Beatz, Eve, Giggs, Lady Leshurr, Bugzy Malone, Bacardi

Statis sets off down to a warehouse in London Bridge for an event Beatnik have been working on for the previous few weeks.
Swizz Beatz, in conjunction with Bacardi and the Dean Collection collectively, put on an event called No Commission where
artists display their work in a gallery enveloped by a party, Dj's and live performances. Beatnik were on hand to help and
also brought a load of VIP guests to come and party and even buy some of the art. On No Commission Day 1 there were
performances by Swizz Beatz, Emeli Sande, Blood Orange and No Vacancy and Day 2 had Lady Leshurr, Bugzy Malone, Eve, Giggs
and of course Swizz Beatz again. The whole event was put together by Bacardi so there were definitely enough free drinks to
keep everyone partying late into the night! The party was a huge success and some of the guests that attended were:
Nicole Scherzinger, Lewis Hamilton, Jimmy Iovine, Reggie Yates, Nick Grimshaw, Sibley, Clement Marfo, Dj Supreme,
Legendary Damon and of course Dj Nikki & Statis.

Artists On Display:
Ricardo Cavolo, Sandra Chevrier, Dank (Dan Kitchener), D*Face, Ben Eine, Jamie Evans, Faile, Fanakapan, Hassan Hajjaj,
Handiedan, Conor Harrington, Paul Insect, Kai and Sunny, Tomokazu Matsuyama, Miss Van, Jaybo Monk, Oker, Felipe Pantone,
Lucy Sparrow, Matthew Stone, Gary Stranger, Jason Woodside

No Commission
The Dean Collection
Swizz Beatz








No Commission Day 1 - Swizz Beatz, Emeli Sande, Blood Orange, Bacardi

Statis sets off down to a warehouse in London Bridge for an event Beatnik have been working on for the previous few weeks.
Swizz Beatz, in conjunction with Bacardi and the Dean Collection collectively, put on an event called No Commission where
artists display their work in a gallery enveloped by a party, Dj's and live performances. Beatnik were on hand to help and
also brought a load of VIP guests to come and party and even buy some of the art. On No Commission Day 1 there were
performances by Swizz Beatz, Emeli Sande, Blood Orange and No Vacancy and Day 2 had Lady Leshurr, Bugzy Malone, Eve, Giggs
and of course Swizz Beatz again. The whole event was put together by Bacardi so there were definitely enough free drinks to
keep everyone partying late into the night! The party was a huge success and some of the guests that attended were:
Nicole Scherzinger, Lewis Hamilton, Jimmy Iovine, Reggie Yates, Nick Grimshaw, Sibley, Clement Marfo, Dj Supreme,
Legendary Damon and of course Dj Nikki & Statis.

Artists On Display:
Ricardo Cavolo, Sandra Chevrier, Dank (Dan Kitchener), D*Face, Ben Eine, Jamie Evans, Faile, Fanakapan, Hassan Hajjaj,
Handiedan, Conor Harrington, Paul Insect, Kai and Sunny, Tomokazu Matsuyama, Miss Van, Jaybo Monk, Oker, Felipe Pantone,
Lucy Sparrow, Matthew Stone, Gary Stranger, Jason Woodside

No Commission
The Dean Collection
Swizz Beatz








Jess Glynne Tour Party - Beatnik Dj Set

Beatnik set off towards the The Box in the centre of Soho to DJ at Jess Glynne's end of tour party. Once there,
DJ Nikki & Statis setup and soundcheck of all the equipment before going on to smash up their sets. Half way
through the night there is a live band who do amazing renditions of some classic tracks. Jess joins them on stage
for the final song of their set before giving a heartfelt speech thanking all her friends and family who have come
to support her. Then it's back to Beatnik to finish off the night in style as everyone has an amazing time! Finally
it's home time for the duo and the obligatory petrol station stop off before bed!

Jess Glynne
The Box Soho








Ed Hardy Relaunch Party - Beatnik DJ Set

Beatnik (Dj Nikki & Statis) head off back to Shoreditch to DJ at the relaunch of Ed Hardy. The brand are making a come back and they
booked the duo to smash up the club while they showcased their new range of designs. The party was held in conjunction with
Pause Magazine and alongside the clothing were bespoke cocktails made by the fantastic bartenders at Old Street Records as well
as amazing Macaroni Cheese (Statis & Dj Nikki were both extremely happy about that addition!). The duo had the dance floor going
crazy all night and everyone danced their feet off. Then it was a quick stop off at the infamous Bagel shop on brick lane before
heading home after a great nights work! #EdsBack

Ed Hardy
Pause Magazine
Pause Magazine Ed Hardy #EDSBACK Event Feature
The Mac Factory








3D Mixdown, Audio For Virtual Reality & Graffiti In Soho

Statis heads off into central London to attend an event focused towards the professional sound/audio industry, in particular 3D mix
downs and audio for virtual reality. Being held by Jigsaw24 and featuring many of the cream of the music technology world: Dolby, Avid,
Sennheiser, JBL, Focusrite, Nugen and Halo the event is devoted to helping audio professionals understand and work with the limitations
and opportunities of these new developments. From how to mix audio in 3D space to how to work with the issues created by movement in
virtual realities the event covered a huge range of the hurdles facing everyone working in these new sectors. After a great talk and
demonstration Statis doesn't have time to hang around though and has to run off to the next event (after refueling with a Burrito of course).
This time it is to the launch of 'The Soho Takeover' an exhibition by the On Arts Collective featuring 12 of the worlds best Graffiti artists
including: Atomik, Irony, Roo, Sterling, Friz, Artista, Snub, Nomad Clan, 2Rise, Miles Khan, SR.X and Attai. Also on display are the
Smiles 4 Miles books in which 45 professional artists from across the world donated an artwork to this colouring book and every purchase
gives a corresponding colouring book to a refuge. After admiring all the art Statis sets off home but sadly runs into a spot of trouble
as the entire transport system seems to have come to a standstill.......something that is not a surprise in London any more though!








Do You Love Dogs?

Statis sets off with Dj Nikki and her amazing rescue dog, Purdey, to Soho to go and DJ at a Charity event. The Wild At Heart Foundation
aims to reduce the world's 600 million stray dog population through rescue projects, neutering programmes and education/awareness campaigns
With Beatnik being such huge dog lovers they jumped at the chance of being part of this event and went along to the art gallery to DJ.
All of the artwork had been devoted to the charity and was being auctioned off to raise money along with a selection of sweatshirts and
other clothing! Beatnik took to the decks surrounded by art, donors and dogs making it one of the strangest places they had played a DJ
set in ages. The dogs seemed to love their party as much as the people and the evening was a huge success
.....and Purdey made loads of new friends!








Best Instagram Walls In London - Part 1

Statis sets off around South East London on a location hunt for good graffiti walls to use as backdrops for photoshoots and videoshoots.
As everyone is obsessed with taking Instagram pictures at the moment he decided to document all the walls on his recce so that people can
go and take pics next to them. He searches out the graffiti before checking its positioning and access for taking pics and videos as well
as what angles are feasible. He starts this leg of the journey in Brockley locating artwork by infamous street artists: Richard Wilson,
Attai, Kastruc, Dale Grimshaw, Mr Cenz, Louis Masai & More! Statis then travels into Peckham, stopping off for a quick burger for lunch at
Honest Burger of course. Sadly his penultimate location, the pink room as he calls it, is not accessible at this time of year as Franks Cafe
is shut but he manages to find some other great urban and industrial looking backdrops before returning to Thierry Noir's Peckham wall!








Beard Photoshoot & Videoshoot

Statis sets off to east London at a ridiculously early hour to take part in a Beard focused Photography and Video shoot. He meets up with
the rest of the cast and crew at Kafe 1788 and while waiting for his turn in front of the camera he checks out the new art exhibition in
the basement of the coffee shop. Statis then sits in front of an amazing piece of street art by the infamous Malarkey and is photographed
by Ken Kamara and filmed by Joao Leal whilst speaking talks about his beard. Once filming is completed then the next stop is over to
Brockley market to grab a spot of lunch. This time Statis can't resist a burger from the amazing Mother Flipper which he films in
admiration, onlooking as they create their spectacular fare. Then once the food is demolished its down to The Bussey Building in Peckham
to visit a local art exhibition called The Colony from an amazing artist, Dinh Q. Le. The exhibition focuses on historic fertiliser
production on a remote island which is filmed beautifully by drones.








Best View Of London

Statis takes some time off from work to visit and check out the amazing views on display for free from the new section of the Tate Modern, Switch House. He starts off
at Borough Market in between meetings to grab some of the amazing Empanadas from one of his favourite places, Portena. Statis quickly grabs a doughnut (although he
had to go with vanilla as the other flavours had all sold out) and checks out a few of the other stalls before heading off to the Tate Modern for his next meeting.
He checks out the river Thames and the views along Southbank of The Shard, The Globe and St Pauls as a military helicopter flies over head. Statis makes his way
into the Tate Modern and quickly checks out the installation in the Turbine Hall before going to get his first sight of the architecture of Switch House. Then after
viewing it from below he jets up in the lift to see the sights from the 10th floor with its 360 view across London. On the way back down he can't resist checking out
a couple of the art exhibits, particularly two of his all time favourite paintings by Salvador Dali & Pablo Picasso, but doesn't have time to hang around and grabs a
quick pic by an amazing orange wall before heading out through the gift shop. En route he does notice the commission undertaken by Peter Saville for the Tate Moderns
new building.








Night Time Photoshoot In London

Statis and Dj Nikki head off into central London to meet photographer friends @benjammin04 & @mistersix3 in a tunnel in Barbican for a night time photoshoot. They
meet the guys in the most inauspicious surroundings and get ready to pose in the middle of the oncoming traffic. The photographers set to work getting some amazing
images of Beatnik before setting off to location number two which had been named Lego wall. Statis grabs a few shots of Dj Nikki as the cameras and lenses are being
prepared before he has to jump in front of them for the shots. As time is of the essence its a quick discussion as to which locations to prioritise. The decision is
made to head down to Waterloo for two locations in the underground tunnels of the Tube. The crew split up and meet again inside Waterloo's main concourse and then
head deep under London. They take full advantage of the two locations getting some great shots (and lots of stares from the public watching) before wrapping up for
the evening and heading off home! Massive shout out to both of the guys for their stellar work and keep your eyes peeled in the Beatnik social media for all the shots!








Best Of Britannia Fashion Show

Statis and Dj Nikki head off to Bloomsbury in central London to Dj at the Best Of Britannia Fashion Show catwalk. The event focusses on British design and talent
and the models are all hugely successful women from a plethora of different fields and industries. We follow the Beatnik duo as the set up, soundcheck and then
perform during the catwalk show. Hosted by June Sarpong the event was a massive success so Statis & Dj Nikki set off home!








Beatnik Bassment & Brick Lane Bagel

Statis sets off with Dj Nikki to their new residency at Old Street Records in East London. They DJ each Thursday for 5-6 hours back to back playing the best
selection of Bass infused music including: Hip Hop, Trap, RnB, House, Garage, Jungle, Grime, 80s, 90s, 00s, DnB and dance floor filling party classics! After
smashing up their set Statis heads down to the infamous Brick Lane Bagel shop to grab a healthy late night snack of egg bagels and water........were he can't seem
to resist salivating over their spectacular Salt Beef! Then its back home to get some well earned rest!








How To Fix Glitches & Audio Dropouts in Serato

Statis spends this vlog installment attempting to fix the issues he encountered at a club the other night on his mac where the audio started glitching and dropping
out randomly. He has used the same Macbook Pro with external hard drive for the last few years without a single issue and yet since upgrading to El Capitan this
serious problem has arisen. He starts by upgrading the RAM in the laptop but it only alleviates the issue slightly. So next he moves all the music files to the root
level to stop the computer having to work so hard to access the files but still the glitching happens. Before attempting a full reinstall of the OS and Serato he
tries to DJ using files directly on the internal hard drive and this seems to work better than anything else. This of course raises a whole heap of new issues so
he ends this vlog at this point and will continue this trouble shooting over the next few videos.








Wale Adeyemi B-Side 20th Anniversary Exhibition

Statis Beatnik sets off to Hoxton in East London to the 20th anniversary celebrations of fashion designer Wale Adeyemi's clothing brand B-Side. To celebrate this
anniversary Wale has put on a party featuring photography of loads of the people who have helped make the brand what it is over the years as well as music and a
short film. As Statis & Dj Nikki are long term collaborators with Wale for over a decade they were invited to be in the pictures but sadly were abroad when the
photo shoot was happening. Statis bumps into loads of the Beatnik family when he arrives at the exhibition including: XO Man, Dj Smasherelly, Freethoughtism,
Paz Dean, Julia Demetriou and of course the man of the night Wale himself. Then its back home to the studio to continue working!








How Does Casey Neistat Do It - 3 Failed Vlogs

Statis sets off to vlog his three day stint of events that he has been working on for weeks.......and fails to manage to capture any of them successfully. He
starts off with the launch of Beatnik Bassment at Old Street Records but as soon he and Dj Nikki set foot in the door of the club there is so muhc to deal with
and including all their guests and logistics and obviouslty his DJ set that he doesn't even get a second free to film anything. Then its off down to Hastings for
BUST at the Printworks where he is djing after two of the UK's best Burlesque performers, Kitty Bang Bang and Miss Betsy Rose. He manages to capture the soundcheck
and grab a tiny bit of the performances from backstage but as there was so much going on and technical issues to deal with he once again fails to get any of his DJ
set filmed. By the time the pair return home its about 5am and he has two hours to sleep before having to be on stage at the Chrisp Street Market Festival where his
DJ set is surrounded by Brazilian dancers and drummers and a host of other performers. He manages this time to dive off stage during his set to grab a few shots but
has so much equipment with him that its impossible to film any of the surrounding events! So its with a heavy head about his three failed vlogs, although he managed
three great DJ sets at three great events so not all was lost, that Statis heads home for a well earned rest!








BEATNIK BASSMENT - Flyer Drops

Statis sets off to pick up the flyers for Beatnik's new night at Old Street Records.....BEATNIK BASSMENT. He plans to do a flyer drop around East London focusing
particularly on Shoreditch, Old Street and Brick Lane. He collects the flyers and posters from Clapham and grabs a bit to eat at Milk in Balham to set him up for
the days exertions. After a lovely Sweetcorn fritter, Halloumi, Avocado and spicy salsa brunch he heads over to Hoxton Square to park up and begin delivering some
of the thousands of flyers he has. He makes sure to go to all the coolest boutiques, hotels, restaurants and creative spaces in the area to to have the chance of
attracting the right demographic for the new night. En route Statis makes sure to document loads of the best street art in the area as it is dotted everywhere you
turn. As the sun starts to set and the day draws to a close Statis puts an end to the days mission and heads back home to the studio.








Beatnik Vlog 051
Surrounded By Sexy Girls

In this Beatnik vlog episode Statis sets off to the Notting Hill Carnival for a well deserved day of partying, dancing and enjoying himself. He joins the million
people heading into the area and walks until he finds the procession which he promptly joins and starts partying with the revelers. As always Carnival is filled
with amazing music, fantastic costumes, delicious food and extraordinary people all having fun. After following the floats for a while next stop is to grab some
of the spectacular food on offer before checking out the Soundsystems dotted on the street corners throughout the area. Then as the sun starts to set and the
music has to stop its the long walk back to the car with the crowds of people. Notting Hill Carnival is the largest in Europe and the second largest in the world
so if you get the chance to go definitely give it a go......you'll have loads of fun!








Beatnik Vlog 050
Sneaking Backstage To Film A Movie

This episode of the Beatnik vlog Statis is very excited as he has to go direct and film a confidential short movie featuring some actor friends of his that is
bound for Hollywood. He sets off from his studio on the bus to the Prince of Wales Theatre (after getting its name wrong numerous times), which is the home to
The Book Of Mormon, to meet @kevekev73 who has one of the main parts. After meeting at the stage door they go backstage into the theatre to meet the rest of
the cast but sadly that is as much as can be said, or shown, at this time. We then cut to after the filming has wrapped and as Statis sets off back to the
studio to edit the footage he makes good on his promise and gets some shots of the Team GB BFG Dream Jar that he had filmed when it was empty in an earlier vlog
before it was filled with the 67 replica medals that were won by British sports people in the Rio Olympics! Then its back to edit the footage and get it to LA!








Beatnik Vlog 049
Best Steak Ever!!

Warning: The food selection in this episode will make your mouth water........but before we get to that we start with Statis setting off early for a meeting.
He goes down to meet DJ Nikki who has brought the whole family along in the car. We get our first introduction to the lovely four legged friend Purdey before
driving across to East London and then into Shoreditch. The duo are heading to Shoreditch house, the exclusive members club with swimming pool on the roof, for
a meeting. Filming is strictly prohibited so Statis only grabs a couple of shots in the building before heading back home to South London. After another stint
of studio time and work he then heads off for a little reward of a great Dinner at Street Feast in Canada Water. He is hoping to revisit the amazing Venezualan
pop up food stall they have eaten at before but as it is no longer there he opts for a £10 steak and beef fat chips accompanied by a Bone Marrow sauce and a
Scotch Bonnet Salsa from @MeatHookGrill. Needless to say this is amazing and he chooses it over @yasminayas vegan burrito made from Jackfruit! Then its time to
leave Hawker House and get back in the car and head home to work again!








Beatnik Vlog 048
Best Coffee Ever!!

Statis sets off on the London Underground to East London to a special event at his friends new coffee shop, Kafe 1788, in All Saints. He travels on the Tube
& DLR through the Canary Wharf as he makes his way there admiring the architecture and design before arriving at Chrisp Street Market. Upon arrival Statis
finds a magician entertaining the crowd as he admires the Haitian Paintings on display. Kafe 1788 is the only place in Europe to serve a particular coffee
sourced from Haiti so Statis is given a demonstration of the baristas amazing coffee art skills. He then makes his way down stairs to the art gallery situated
underneath Kafe 1788 where the owner, RMClarke, photography exhibition is on display. Richard Macien-Clarke traveled back to his birth place and photographed
all the amazing and wonderful sights he beheld there. After a private viewing Statis heads back upstairs where now there is a Ukulele band, The Funky Pluckers
@funkypluckers playing covers of classic 20th century hits and the Haitian food pop up is in full swing. Sadly Statis has to head back to the studio as work
is calling but rewards himself later that night with a trip to Burger Bear at the Old Nun's Head......the burger trail continues.








Beatnik Vlog 047
Peckham, Honest Burgers, Horniman Museum & Gardens

Statis sets off on a day of missions around South London starting in Peckham.....but not before he gives a first glance of the flyer and digital designs
for Beatnik's new club night, Beatnik Bassment. This new night is going to be held every Thursday in the basement of Old Street Records, a brand new bar and
club in the heart of Shoreditch, London. Then is straight down to Peckham, after admiring some street art by the amazing Thierry Noir @noirthierry, to grab
a bite to eat in Honest Burger @honestburgers before visiting south London's best juice stall, Ali Ba Ba Juices @alibabajuice for a quick injection of some
nutrients and vitamins. Next its over to Forest Hill and after completing his mission there Statis dives into the Horniman Museum for a bit of research in
the musical instrument exhibition. While he is there he decides to look around the outdoor music installation and to check out the medical garden for some
hints and tips. As he needs to pick up some supplies from an art shop he can't hang around for long and so speeds over to Camberwell before home to get
back to work.








Beatnik Vlog 046
Coastal Currents Brochures & Banners (Hastings & Rye)

Statis is down in Hastings admiring his lovely flyer design for BUST in its full glory printed in the Coastal Currents Arts Festival brochure (other
magazines and publications are available........and its in some of them too!!!). However he is a few days too early to see the full size posters along
the seafront as he is there to distribute the brochures around Hastings & Rye as well as erecting banners. After covering the seafront shops the next stop
is Rye and the beautiful old town to make sure all the local shops, businesses, hotels and particularly art galleries all have numerous copies. Its a
ridiculously hard slog carrying thousands of the brochures around but before a serious dent has been made in their numbers its back to the print shop to
collect the banners that have just been finished. After a mad rush putting these up all over the town its then starting to get late so the rest of the
brochures will have to be saved for another day as its time to take the dogs for a walk on along the local cliff tops with the amazing view of the sea as
a backdrop.








Beatnik Vlog 045
Old Street Records, The Breakfast Club, Baldwins

Statis & Dj Nikki set off for a meeting with Old Street Records in Shoreditch, London, to have a look around the bar and nightclub and discuss moving
one of their club nights to this new venue in the heart of East London. They set off from South London and travel over the iconic Tower Bridge taking
in the sights of the Mayors building, the Thames, the Tower of London and the City. They find parking space in Hoxton Square where Statis spots a
beautiful Porsche before the duo grab a quick bite to eat in The Breakfast Club. Statis eats a quite underwhelming burger in the fastest time possible
so that they aren't late for their meeting. The pair then move on to Old Street Records and are given a guided tour of the new bar and live music venue
with its hidden basement club downstairs. After taking in the interior design, checking out the sound system and enjoying the great looking bar they
sit down and discuss future opportunities with the venue owners. Then its back in the car to jet back over to South London and a quick trip to Walworth
Road's infamous natural remedy mecca, Baldwins. Statis meets up with a Beatnik T-Shirt adorned young lady and grabs some much needed ingredients before
heading back home to the studio to work again.








Beatnik Vlog 044
Top 10 Trainers, Trainer Collection, Flyer Design, Homemade Pizza

This episode of the vlog is mainly devoted to one of Statis' lifelong passions, his trainer/sneaker collection and ten of his favourite or most
memorable pairs within his collection (which is mostly comprised of High Tops!). Statis starts off back in his studio trying to get away from his
desk so that he can prepare for that evenings DJ set. However he has to first finish the flyer, poster and brand design he has developed and created
for a new event he is part of in Hastings. He quickly runs through the designs before he sends them to print whilst also giving a glimpse of another
separate design that he created which is for Beatnik's digital and social media brand marketing. He then has to rush to begin getting ready for his DJ
set that night so while he is choosing which trainers to wear he does a quick over view of his favourite trainers (some of which are in a far worse
state than others). Next its a quick shave of his head before cooking his homemade pizza recipe for dinner before he sets off to work DJing. He makes
the dough and tomato sauce from scratch and then covers them in courgette, peppers, bresaola, tomatoes and buffalo mozarella. Delicious!








Beatnik Vlog 043
BFG Dream Jar Trail, China Town, Covent Garden, Meat Market Burger

Statis' trail through London's west end continues as he tries to find more BFG Dream Jars. We start with him entering China Town to locate the first
Jar which belongs to AngelaBaby, a chinese actress and instagram star. He checks out loads of the sights in the area before turning back down to go
through Covent Garden and the Theatre district of London. He stops off at another art shop to try and get supplies from the London Graphic Centre
before stumbling across comedian and Play writer Tim Minchin's Dream jar. This one is also strategically placed due to Tim's career in the theatre.
Statis then sets off admiring more design and architecture as he passes the Royal Opera House and finds the next Dream Jar outside the Theatre Royal
Dury Lane, which has been the home to Charlie and The Chocolate Factory for years and fits the theme of the vlog very well as it is also a work from
the fantastic Roald Dahl. This Jar is made by artist Romero Britto and gives statis a good excuse to go and grab a burger from one of his favourite
restaurants in London, Meatmarket. He opts for the Dead Hippie (as always) and devours it in a matter of seconds while he grabs some shots of the
surroundings. Feeling sated he heads off to find the last dream jar on today's route which is hidden in a park down behind Charing Cross and
Embankment. This jar is the dream of British artist, Hayden Kays, which is positioned just next to an amazing statue of Scottish poet and writer
Robert Burns. Statis finally manages then to head back home to start working on his own creations and jumps on the bus to South London.








Beatnik Vlog 042
National Gallery, Portrait Gallery, Suicide Squad Premiere, BFG Dream Jar Trail

Statis finishes his meetings in central London and decides to see if he can quickly find some more of the BFG Dream Jars on the trail as he makes
his way back to the bus. However as soon as he gets near Trafalgar Square he can't resist quickly popping into one of his old haunts, the
National Galllery, to admire one his all time favourite paintings, Whistlejacket, by George Stubbs. As he walks through Trafalgar square there are
loads of street performers and bands trying to earn a crust from showing off their skills and even one or two of the crowd try to get involved in
the action. Once inside the gallery Statis heads straight to the painting and gets some shots but can't manage to leave without checking out a few
other favourites, particularly Turner and Canaletto. He manages to escape and after finding the first Dream Jar of the day, which happens to be the
Team GB Dream Jar which will get filled every time one of the British athletes wins a medal in Rio 2016 Olympics, tries to head back on the trail
but as he passes the National Portrait gallery he realises its the BP Portrait Award. Statis can't resist poking his head in to do a quick tour of
the gallery as he makes his way to the exhibition. He stops to ogle a few of his favourite artworks in the gallery and then checks out the entrants
for the award before jetting out of the side entrance and into Leicester square to locate the next Dream Jar. As he arrives there though he realises
he has stumbled upon the premiere of the newly released DC & Warner Brothers film, The Suicide Squad. He marvels (hehehehe) at the amount of people
that have turned up to the premiere and even lots that have come in character. He manages to fight through all the people to find the next Dream Jar
which belongs to legendary Director of the BFG film, Steven Spielberg, as a small boy dreaming of owning all the sweets in the world. Statis escapes
the crowds as quickly as possible and gets back on the trail after a quick dip into an art shop for supplies.








Beatnik Vlog 041
Best Outdoor Gym 1: Dulwich Park

Statis continues his outdoor gym mission and decides to start reviewing and cataloguing the best sites in south London for free exercise in the
fresh air. He is a big fan of these gyms placed in the parks across the UK as they are a great way for people with little money to be able to
exercise for free and also in the fresh air. He decides to head down to Dulwich Park, which is one of the best equipped outdoor gyms that he has
found so far, and does a quick run through of some of the different machines available. He then decides to have a little jog before heading back
through the park and highlighting some of the beautiful vistas on display as well as the amazing flora and fauna including ducks,
geese and a rare view of a Heron.








Beatnik Vlog 040
Jeff Koons: Now @ Newport Gallery

Statis finishes his meetings for the day and decides to to take 30 minutes out to grab some inspiration by visiting to the Newport Gallery to
see the the Jeff Koons exhibition, Now. He has been a fan of Jeff Koons work for years but has never managed to visit this gallery before even
though it is owned by, and exhibits the work form the personal collection of, another of his favourite artists, Damien Hirst. Designed by
architects Caruso St John, Newport Street Gallery consists of 5 rooms that span 37,000 square feet, which includes a restaurant and shop.
Statis admires the architecture and the addition of the huge video screen located on the front of the building that advertises and displays the
artists work. Statis wanders through the exhibition taking in the work of Koons and shoots it in his own inimitable style. Some of the works
included in the exhibition are: Balloon Monkey (Blue), Inflatable Flowers (Short White, Tall Purple), The New series, Celebration, Equilibrium,
Luxury and Degradation, Made in Heaven and more. Statis loves his time in the gallery which is both fun and perverse in equal measures and
alludes to fetishism on many levels. After soaking in this hugely influential artists work and revelling in the beautiful architecture of the
building Statis heads off on the bus back to his studio to put some of this inspiration to good use.








Beatnik Vlog 039
How To Remix & Buster Mantis

Statis starts this vlog episode by taking a break from his remix duties and heads down to Buster Mantis in Deptford to try out their Caribbean
food selection. He opts for Jerk Chicken, Rice and Peas, Potato & Pumpkin curry with some Saltfish fritters. After a great meal Statis heads
back to the studio to finish working on the remix he has spent the last few days producing. Statis gives a quick overview of the remix process
and explains the steps he takes to go from beginning to completion. The remix he is working on is for UK Hip Hop group 'True Ingredients' and
their new single 'Selfie Skank' and he goes from receiving the stems all the way through programming, mixdown, master and then onto mailing
out the track to DJ's, Blogger and Radio.








Beatnik Vlog 038
BFG Dream Jar Trail, Borough Market & Brockley Food Market

Statis starts out the day by jumping in the VW Polo and heading to Brockley Food Market where he has to decide between more than just two
of his favourite food stalls: Mike & Ollie's lamb wrap and Mother Flipper's burger. He decides to opt for the wrap and devours it quickly
before grabbing a brownie from Cinnamon Tree Bakery and then starts his day. First stop is to check out a new outdoor gym, as Statis has
been testing out as many as possible recently, to see how this extremely local one was. He decides he might have to start featuring these
exercise forays in the vlog soon and start taking the camera with him. He cant stay for long and use any of the equipment as he has a
meeting in London Bridge so speeds off down there only to find another outdoor gym right where he parks the car. He quickly checks this one
out too before a quick tour of Borough Market and all the amazing food on display, including partaking in a cheeky ice-cream, before moving
on again. Statis grabs shots of all the interesting things in the area including Southwark Cathedral, The Golden Hinde (a replica of Sir
Francis Drakes galleon ship), the Thames, London Bridge, The Shard and more. He then decides to see if he can find a few of the interesting
objects on the BFG dream jar trail which has been commissioned to co-inside with the release of Steven Spielberg's new film adaptation of
the Roald Dahl book. He joins the trail at London Bridge station where he is unsuccessful at finding the first Jar and so moves onto the
Mayors Building where he locates Justin Rose's dream surrounded by people and children all having fun. Next is Zoella's dream jar next to
the Thames and then up onto Tower Bridge to find the Mayor Of London, Sadiq Khan's dream Jar. He is lucky to be on the bridge just as it
opens to let a boat through which is an event he has never seen from that position before. Even though he is thoroughly enjoying the trail
he has to head back as he needs to work that evening so he manages to find one more jar before heading home and getting ready to DJ. He does
a quick turn around, shows off a pair of his favourite trainers and his Beatnik No Requests T-Shirt, before jumping back in the car and
drives down to Hastings on the South Coast for his set that evening. En route he finds out that he is not allowed to film at the event as
he was planning and so ends the vlog there.








Beatnik Vlog 037
Evening Standard - ES Party

Statis and Dj Nikki set off to Holborn in central London to DJ at the Evening Standard ES Magazine Summer Party. The event is being
held at the Hoxton Holborn, a wicked boutique hotel, and they arrive to meet @kevekev73 who decides to break dance in the street before
taking the Beatnik Family's newest and youngest member, Harley, home while Dj Nikki does what she does best. Statis has a quick look
around the venue and checks out the drink sponsors while the film crew take shots of Dj Nikki. The guests start to arrive and the
networking begins to the backdrop of amazing music supplied by Beatnik. There is a hiatus half way through the night for the staff at
the Evening Standard to make sure everyone knows the reason for the nights frivolities with a presentation outlining the Digital arm of
the newspaper and magazine. Then its back to drinks and dancing for the rest of the evening until everyone is a little imbibed and having
a great evening. Statis and Dj Nikki then finish their set and head off home after making some new friends on the way........and narrowly
avoid a car crash in their taxi!








Beatnik Vlog 036
Favotell Summer Party - Fashion Salutes Art

Statis and Dj Nikki set off to Dj at the Favotell Summer Event: Fashion Salutes Art. With their backgrounds in design, art, fashion
and music Beatnik teamed up with the guys at Favotell, a Shanghai/London based creative company, to musically curate and direct the
event which fuses Fashion, Art & Music in the Wolff Gallery in central London. As the owner is an old Saint Martins alumni, like
Statis, they agreed to assist with all the technical preparations and specifications for the event. So Statis & Dj Nikki set off early
to go and set up all the DJ equipment, PA system and speakers and then being their DJ set! The event goes amazingly well and even has
live interviews and coverage from TV channel London Live. The designs and artwork are all stunning and beautifully curated and the
music is a perfect fit, another brilliant event in conjunction with the Beatnik crew!








Beatnik Vlog 035
Kelis @ The Jazz Cafe

Statis heads off to Camden in this installment of the vlog to The Jazz Cafe where Kelis is performing. Dj Nikki is of course on
stage running the show from behind the decks playing alongside the band. Kelis turns up a little late as she has spent the entire
day cooking at her pop up restaurant in Leicester Square and then sped across London and ran straight onto stage for the show. As
always both ladies smash up their respective performances and its such a wicked intimate place to showcase Kelis' amazing talents.
Statis then pops backstage to say hello to Kelis and everyone in the band and then get caught up in the backstage shenanigans.
They then finally manage to set off home.








Beatnik Vlog 034
Volkswagen Golf MK1 London Drive Through

Statis heads over to Chelsea to join in the first part of the Volkswagen Golf Mk1 London Drive through. Statis has had a lifelong
obsession with VW starting as a child with one particular Beetle and it's air-cooled aluminium engine that he helped a friend fix.
This then developed into the California Camper Vans, Golfs and finally Polos. The first car Statis ever drove was a Golf Mk2 gti
in gun metal grey which solidified his love for the range and the brand. Statis now owns a Polo 6n2 Gti which he is slowly
restoring back to factory freshness......when time permits! So as his all time favourite car in the world is a Golf Mk1 Gti Statis
decided to head over to the meeting point where all of the owners congregate before they start the drive through of London. The
event was organised by the London Cartel and the selection of cars that came to join in was absolutely spectacular. Check out the
beautiful cars in the video!








Beatnik Vlog 033
Yayoi Kusama, Victoria Miro Gallery & Bleecker Street Burgers

Statis takes a little time out of his work schedule to revert back to one of his first loves, Art. He takes a trip to the
Victoria Miro Art Gallery, situated between Old Street & Angel, to experience the Yayoi Kusama exhibition being held there.
The exhibition consists of a mixture of paintings, sculptures and installations by the hugely influential Japanese
octogenarian artist and writer. Statis joins the queues and waits to get inside the amazing spaces which include a room full
of infinite pumpkins, infinite chandeliers and infinite stars (or small LED lights more likely). Surrounding these installations
are more sculptures of pumpkins, paintings and numerous oversized ball bearing like silver balls installed onto the pond in the
gallery. After soaking up some culture Statis' belly starts to rumble so he stops off at Spitalfields Market to indulge in
another of his passions.......burgers. This time stopping off to re-visit Bleecker Street Burgers and grab a standard cheese
burger and fries before heading back to the studio.








Beatnik Vlog 032
Alan Carr Birthday Party

Statis jumps into a voiceless Dj Nikki's car and the two speed off down the motorway to Brighton to Dj at Alan Carrs
Birthday party.......the Carrbaret. En route they meet up with hip hop stalwart and car fanatic Dj Six 3 and the three
enter the venue where there is equal opportunity burlesque entertainment for both the guys and the girls. Dj Nikki then
takes over and has everyone dancing all night long as the free drinks flow and everyone gets to know each other. Statis
ends up making friends with one half of Ant & Dec, Ant McPartlin, as well as half of the party revelers and staff. At the
end of the night Nikki & Statis give their new found friend a lift home and set off down the motorway back to South London.
Statis finally makes it home in the wee hours of the morning as the day is getting light and heads to bed.








Beatnik Vlog 031
Palm Springs, Ace Hotel

After two weeks of driving, meetings, filming, work and tourist exploits Statis takes two days out to recuperate in the
infamous desert town of Palm Springs, home to Coachella music festival and film stars past and present. He checks into
the coolest hotel in the area, The Ace Hotel & Swim Club, only to realise that half of the west coast have done the same
things as its memorial day and they all want to party! Statis takes you on a quick tour of the uber hip hotel with their
shabby chic interior and 50's style restaurant where its feels like Hunter S Thompson should be partaking in a drop of
ether just next your table while Flo serves you apple pie! Once the party dies down Statis gets to really enjoy his stay
and to chill out in the sun and the pool in the fantastic room. Huge thanks to Ace Hotel and all their staff for such a
wonderful experience.








Beatnik Vlog 030 - Los Angeles:
Venice Beach, Street Performers, Rodeo Drive, Bel Air, Tatsu Ramen

Statis continues his journey along Venice Beach and stops off to watch one of the shows filled with acrobatics,
tumbling, break dancing and body popping. Then after checking out some more street art he drops in to try some Lemonade
in the similarly named company. After checking out a classic Ford Mustang and a Ferrari Statis heads off to do a quick
drive through of Rodeo Drive to check out the shops before heading up to Bel Air to see all of the houses. Finally as
sun sets its time to get some takeaway Ramen from Tatsu and head to the apartment to get some work done.








Beatnik Vlog 029 - Los Angeles:
Venice, The Butchers Daughter, Canals, Muscle Beach, Blue Bottle

Statis finds himself in the Venice area of LA and after having a little look around at the shops, street art, cars
and design he grabs brunch at a restaurant called The Butchers Daughter. After finishing an average eggs florentine
and a less than mediocre vegan tiramisu he is dragged into another coffee shop before checking out a small artisan
market. Then its into another coffee shop called Blue Bottle before heading down to check out the canals where there
are people enjoying messing about on the water. After taking in this very pretty and chilled part of Los Angeles its
then down to Venice Beach and onto the pier. After taking in an amazing car, the lifeguards, body boarders, surfers
and even helicopters Statis then wanders up the coast through the thousands of people to the infamous Muscle Beach.
He takes a break from the schedule to watch some Basketball before continuing onward.








Beatnik Vlog 028 - Los Angeles:
Hollywood Sign, Walk Of Fame, Bernie Sanders, The Grove, Adverts

Statis starts this episode a little overwhelmed by the amount of brands and advertising that attack your senses
every second in Los Angeles as he heads to Hollywood Boulevard to check out the Walk of Fame. He identifies a few
of his favourite celebrities and quickly heads to see the famous TCL Chinese Theatre and Dolby cinema where they
hold the premieres and feels hugely underwhelmed by the whole experience. He quickly exits but not before stopping
to watch the worst street performer he has seen in quite a long time and walking across the street crossing with a
billion other people. Statis then heads to another tourist mecca, the Hollywood sign to get a few shots while he is
there. Then its back through the scenic and beautiful Hollywood hills and to The Grove mall. As always Statis is
very unhappy about this development but as it is a stop for work reasons there is nothing he can do so he just takes
in his surroundings in his usual grumpy manner. He is still a bit astounded by the amount of advertising his eyes
are saturated in. Then as he is doing all of this he hears people start to scream so follows the commotion to find
presidential candidate Bernie Sanders walking through the mall and pressing the flesh of the public. Statis manages
to grab a few shots of him before he disappears into the ether again. Then as sun sets its time to get home and get
some food and some work done.








Beatnik Vlog 027
Beatnik Vlog 027 - Los Angeles: Melrose, Street Art, Paul Smith Pink Wall, Porsches, Karrueche Tran

Statis finally arrives in Los Angeles and after finding his friends flat (and admiring their possessions including:
a cactus, a turntable, vinyl, a guitar, a banjo and apple TV) and doing a little work he sets off to explore the
local area of Melrose. Statis checks out loads of the graffiti, street art, architecture, design and shops as he
makes his way for lunch at Blu Jam Cafe. He orders eggs florentine followed by their signature crunchy French Toast.
As Statis sets off again to some meetings he spots Karrueche Tran on set with a film crew preparing to film her.
Once he gets that meeting out of the way he quickly checks out two of his favourite things in life, classic vinyl
and music T-Shirts. He spots an Audio Technica deck with some very interesting features so he does a quick rundown
of why it is of interest. As Statis makes his way to another meeting he has to stop off at the infamous Paul Smith
Pink Wall and get a quick shot along with every blogger in the world and then takes a quick pit stop in coffee shop
Alfreds. After another meeting Statis reverts back to another huge love of his, car spotting. Even in the small
amount of time he has been in LA he has noticed a plethora of spectacular cars. So he takes ten minutes out of his
hectic schedule that day to film the cars surrounding him and driving past just to show everyone the vast amount of
amazing cars there are just in that tiny area of LA. Every second car seems to be a Porsche and in between those
are: Tesla, Bentley, Ferrari, Mercedes and a million others Statis didn't bother to film.
It really is a car spotters paradise!








Beatnik Vlog 026
Santa Barbara, Malibu, Beach, Handlebar Coffee, Footlocker

Statis starts this vlog episode in Santa Barbara and does a quick run around of the town and tries to find a beautiful
cinema he drove past on the way into the town centre. Its a lovely sunny day so he isn't too upset that he doesn't
manage to find the cinema.He does find a local that likes his hair and beard though so its not all bad. While he has a
few minutes to spare he reverts back to one of his obsessions and visits Footlocker to check out their range of
trainers, or sneakers as the Americans call them. Next its on to what is touted as the best coffee shop in
Santa Barbara, Handlebar Coffee. The owner kindly shows Statis his hand roasting technique that he undertakes for every
single cup of coffee they produce. On the way out of the shop Statis spots one of his dream cars for sale, a
1956 Porsche 356 speedster, so he has to stop to get a few shots of it. Before setting off down the coast he spots a
beautiful building that is the Santa Barbara courthouse and has to have a look around. Finally he sets off down
Highway One again and makes his way into Malibu and of course stops off at the first beach he finds. After getting his
feet soaking wet, having a wander along the beach and admiring the architecture its back in the car to finish the last
leg of the journey into LA.








Beatnik Vlog 025
Elephant Seals, San Simeon, Santa Barbara Beach, Los Agaves

Statis makes an early morning return to check out the Elephant Seals in San Simeon in the bright morning light. He
watches them partake in their favourite past times of sparring, vocalising, sleeping, flipping sand and moulting.
Although he really doesnt want to leave them he then sets off down the coast again on Highway one for the next stop
off point that is Santa Barbara. Surprisingly the first thing on the agenda is some food so its off to a mexican
restaurant that they were highly recommended (which sadly didn't live up to the reputed acclaim). Then as its is
getting late its a quick stop off at the beach to check out all the locals taking full advantage of the fantastic
weather and location. People were jogging, skateboarding, playing volleyball and a whole host of other activities
even including yoga on the beach.








Beatnik Vlog 024
Earthbound Farm, Highway 1, Bixby Creek Bridge, San Simeon, Elephant Seals

Before starting their drive further down the coast Statis finds an organic cafe called Earthbound farm to stop off
at and get a made to order organic sandwich and smoothie. Even though he just wants to nap he cant resist and
organic salted caramel ice cream and a look at a nice AMG Mercedes before setting off on the drive down Highway 1.
He doesn't get very far down the coast before having to stop off numerous times to see spectacular views:
The Bixby Creek Bridge, A Californian Condor, Houses perched on the cliffs, Mountain ranges and more. Then as the
sun starts to come down Statis knows he has to speed up but there is one stop off he can't resist......the Elephant
Seal colony at San Simeon. He manages to get a few shots in the really low light of the males sparring, their coats
moulting and the females getting frustrated by one another. What surprises him the most is the amount of farting
that goes on though! He then decides to drive back in the early morning to get better shots so check them
out in the next vlog!








Beatnik Vlog 023 - Point Lobos State Reserve:
Seals, Coast, Rockpools, Birds

Statis stops off at the beautiful national reserve park on the Californian coast near Carmel called Point Lobos.
As he is a hug lover of nature and animals he was told this would be a fantastic place to visit on his road trip
down the west coast. He arrives in the park and is warned instantly by both visitors and workers in the park to
keep his eyes peeled for Poison Oak/Poison Ivy. However as he is British he has absolutely no idea what this plant
looks like and tries his best to identify it from the very little information he possesses about it. He then walks
down the coast a bit, passed some painters having a lovely do painting the coves and spots crabs, sealife and
birds before finding what he was looking for......the seals! He finds two mother seals lying on the beach and then
slowly starts to realise that there are baby seals cavorting in the sea enjoying themselves. As he tries to find a
better view point he walks past a colony of birds who are building their nests on the rocks. Finally he gets to a
point where he can see the the baby seals swimming and playing in the water. The trip is deemed a huge success and
he heads back to the car to start the drive back down the coast again and is informed that they just missed seeing
the humpback whales breaching 30 minutes earlier. They check the horizon for a little while but the Whales have
sadly moved on.








Beatnik Vlog 022 Monterey & Carmel:
Beach, Town Centre, Tuna Crabs, Tilly Gorts

Statis reluctantly sets off from Yosemite to head back across California and down the coast following the
infamous Highway 1. After getting some pictures in the differing landscapes that the west coast of the US has
to offer the first stopping off point on the itinerary is the lovely town of Monterey where the famous jazz
and pop music festivals takes place. After a quick wander down the beach and an investigation into thy there
are so many dead Tuna Crabs piled up on the beach and being ignored by the birds Statis sets off to find some
good, healthy organic food to eat. He stops off at Tilly Gort's cafe to try out their organic burgers and
tomato & basil soup. Feeling sated its then a quick stop over at the hotel before setting off to drive again.








Beatnik Vlog 021 - Yosemite Valley (Part 2):
Yosemite Falls, Deer, Brideveil Falls, Glacier Point

Statis' journey through Yosemite Valley continues as he finally reaches Yosemite Falls. He walks up
the route to the falls with the multitudes of other people who are doing the same. En route he spots
some people meditating and a squirrel being fed berries before finally seeing the crowds all lined up
to see the spectacular waterfall, the biggest in Yosemite. Against the better advice of the posters
Statis decides to go off track and get a closer look at the falls by scrambling across the wet rocks.
He continues and comes across two deer grazing in the field and stops to quietly film them for a while.
That is of course until the crowds notice and start getting far too close to the deer and scaring them
off. After making his disgust very clear Statis sets off for Glacier Point but has to stop first at
Brideveil Falls for a quick soaking and then again at Tunnel view for another few amazing shots. Then
its up to Glacier point to see one of the most awe inspiring views he has ever witnessed across the
valley with Half Dome and all the other places he has seen over the two day visit in their full splendour.








Beatnik Vlog 020 - Yosemite Valley (Part 1):
Half Dome, Walkthrough, Village Store, Houses, School

Statis decides to spend his second day in Yosemite walking through Yosemite valley and getting back
to nature. He starts by wandering through the woods and finds a beautiful river where people were
fishing and enjoying nature. After admiring the views he heads towards the most famous and biggest
waterfall in the park, Yosemite Falls. En route Statis comes across the Village store which is stacked
to the rafters with everything you could ever need and surprises him as he thought people were supposed
to be getting back to nature a bit! He finds Big Tree a Sequoia that shows what happened during its years
of growth. Next he takes a wrong turn and ends up in a small hamlet of houses and a school where he
presumes the workers in the park get to live. As they find their way back on the path they stop for a
quick burger for lunch in the most phenomenal surroundings.








Beatnik Vlog 019 - Yosemite National Park (Part 2):
Motorbikes, Tioga Pass, Snow, Beef Jerky

On the second instalment of Statis' two day adventure in Yosemite National Park he sets off to drive
over Tioga Pass. Straight away he is followed by a massive biker crew consisting of Harley Davidsons
and Indians. Statis' lifelong love of motorbikes makes him stop off to get some closer shots of the bikes
while they have a pit stop in a gas/petrol station. While they are inside the weather changes suddenly
and they are caught in a snow storm. Statis decides to try out Beef Jerky for the first time as they wait
for the snow to subside before continuing the drive. As the roads get more perilous the mountain passes
become more slippery and dangerous and he decides to turn around and drive back down to the valley. As the
light starts to fade Statis heads back over the mountain pass to the hotel and one of the cars in front of
him spins off the road and down the edge of the mountain stopped only by the trees in its way. The car
behind it did a 360 spin but managed to stay on the road and then all the other drivers, obviously being
unused to driving in snow, go at a snail's pace down the mountain! When finally they all pull over Statis
manages to drive past them all safely after years of driving in British weather its just like
a normal summers day in the UK!!!








Beatnik Vlog 018 - Yosemite National Park (Part 1):
Drive Around, Waterfall, Tunnel View, Valley

Statis starts this vlog episode at San Francisco airport to pick up the rental car needed for the rest
of the trip. Once he has picked it up he then has to have a quick crash course in how to drive an
automatic car on an American freeway as he undertakes a long drive out to Yosemite. After driving
across California through the night Statis arrives and sets off to spend the first day driving around
the national park to see as much of it as possible in the short time they have. After paying to enter
the first stop off point is by a beautiful waterfall and then they go through a tunnel that reveals one
of the most spectacular views of the whole place from Tunnel View. Next it is a drive down into the
valley for a quick stop off to check out a river and to have a wander around. After a very quick tour
around its then off for another drive up the other side of the valley
to check out the views from that side.








Beatnik Vlog 017 - San Francisco (Part 4):
Mission, Tartine, Heath, Sweet Maple, Spice Ace...

On the last day in San Francisco Statis pays a quick visit to Mission after a repeat visit to sweet
maple for breakfast. Once in Mission he checks out a few shops before a taste testing trip to Tartine
to pick up two little tasty treats; one Banana and cream, the other berries and vanilla.. Then after
checking a few sights and some graffiti and street art its on to an amazing shop called Heath where
they manufacture on the premises the ceramics that they design and sell. Then its a rush back over the
city to get back in time for the shuttle to the airport to pick up their rental car to start the next
stage of the adventure.......Yosemite!








Beatnik Vlog 016 - San Francisco (Part 3):
Golden Gate Bridge, Painted Ladies, Bi-Rite, Chile Pies...

Statis' whistle-stop tour of San Francisco continues from the Golden Gate Bridge as he walks across
it soaking in the stunning views of the bay and the spectacular architecture. After a severe battering
from the wind he then jets across town to Pacific Heights, an area of the city that was synonymous
with hippy culture, to check out the picturesque houses known as the Painted Ladies. The view is
amazing, especially with the backdrop of the city, drawing tourists from all across the world. Statis
then reverts back to his first love, his stomach, and visits Bi-Rite which is a food shop with an
amazing array of produce. This is then followed up by a visit to Chile Pies for afters: a superb
Rhubarb and Strawberry pie! Finally some errands need seeing to so its a fleeting visit to Target
and Best Buy to grab some much needed storage space.








Beatnik Vlog 015 - San Francisco (Part 2):
Coit Tower, Pier 39, Sealions, Lombard Street....

Statis starts this Vlog at the top of the Coit Tower in San Francisco in awe of the amazing views
of the city, bay and golden gate bridge. He then sets off down through an amazing part of the city
that looks like its a Caribbean island before entering onto Pier 39. Here he come across the most
amazing sight, a colony of Sealions that have made their home right in the heart of San Francisco's
pier. Three amazing little stories unfold: a fight for dominance of what seems to be the favourite
area between the some very large males, an escape to safety by a smaller Sealion and then what
appears to be an attempt at courting, or perhaps just friendship, with a Sealion that seems to be
on the fringe of the group for one reason or another. Statis then speeds across town to check out
the infamous Lombard Street, the most bendy street in San Fran, which is swamped by tourists at all
times apparently. They dont stay there for long and then with hunger consuming his body he heads
down to Mission to try one of their world famous Burritos! After a quick sleep (and having to check
out a beauty shop) he has another Burrito but this time its a breakfast Burrito. A quick stop off
in the coffee shop Jane is followed by a journey out to the Golden Gate Bridge.








Beatnik Vlog 014 - San Francisco (Part 1):
Union Square, Chinatown, Cable Cars, Roam & Sweet Maple

Statis sets off (late as always) from Heathrow on Virgin Atlantic to Fly to San Francisco for
a two week roadtrip combining work and fun throughout California. After waiting hours to get
through customs he finally boards the BART train to downtown San Francisco. After a quick review
of the hotel Statis goes to Fillmore Street and stumbles across one of his favourite things in the
world.....Roam, an organic burger restaurant with the most sublime salted caramel milkshakes!
Jet lag mixed with a full belly meant sleep was not far behind. The next morning it was straight
back to food and into Japan Town to test what is supposedly the best breakfast in San Fran, at
Sweet Maple. Next on the agenda was a high speed tour of some of the most famous tourist spots
of the city; Union Square, the Cable Cars, Shopping & China Town. Then a big climb up to
Coit Tower ensued with spectacular views over the city including the Golden Gate bridge, harbour
and infamous prison island of Alcatraz. To be continued.........








Beatnik Vlog 013 - Photoshoot & Abbey Road

Statis takes a very quick break from his ridiculously heavy work schedule to visit and old
photographer friend of his for a photoshoot. He drives up to Swiss Cottage in north west London
to meet the amazingly talented Wesley Hort who shows Statis a building that makes him immensely
pleased as it was one of the locations used in Clockwork Orange. They then get down to business
and once the photoshoot is over Statis sets off home. On his way he remembers that he is just near
one of the most important and loved buildings in the history of music, Abbey Road. He decides to
quickly stop and watch all the tourists trying to replicate the Beatles Album cover that is so
infamous before speeding off home and getting back to work!








Beatnik Vlog 012 - BLAST - Wretch 32 After Party
Avelino, Ghetts, Marvelouss G & Christina Matovu

This week at BLAST.......Statis, Dj Nikki & Royston were amazingly pleased to hold Wretch 32's
after party for his #YoungFireOldFlame tour and perfomance at Koko earlier that night. Wretch
was joined on stage, and al BLAST, by Avelino and Ghetts, two brilliant UK rappers who originated
from the Grime scene. Before the party got into full swing BLAST had its own live performances
from Christina Matovu and Marvelouss G. Dj Nikki & Statis then smashed up the venue with their
trademark Bass heavy Dj sets covering everything including: Hip Hop, Trap, Garage, Jungle, Ragga,
Bashment, Grime, RnB and everything else bass related! Royston took control hosting on the mic
and everyone had an amazing night and wouldn't leave when 3am came around!








Beatnik Vlog 011 - Dji Phantom 3 Test Flight, Feiyu G4 Test
St Albans Cathedral & Verulamium Park

Statis goes to North London to meet one of his oldest friends @alexbishop05 and checks out
his amazing array of cameras, lenses, technology and gadgets and particularly his new additions
…….the Dji Phantom 3 Drone and the Feiyu G4 gimble for his Go Pro 3 Black edition. Statis then
swaps one hothatch for another and they jump in the Mini Cooper S while testing the Feiyu G4 on
the drive up to St Albans where they meet the other members of the days adventure. The mission
is to get shots for one of their friends business'. They start by setting up camp next to
St Albans Cathedral ready to start the maiden flight of the Dji Phantom 3 and get the first test
footage recorded. The second test flight they film the front of the cathedral whilst taking more
Go Pro footage using the Feiyu. Verulamium park and the Roman ruins is the next port of call for
the third test run before the battery dies on the iPhone. Just before they head off they do a
quick photo/video shoot around St Albans Cathedral with the Fuji X Pro 2 and the Canon Eos M.
After a hugely successful days shoot the pair jump back into the car and speed back into London.








Beatnik Vlog 010 - Talk Radio

Statis gets invited onto Talk Radio in London as a panel guest to talk about two of his
favourite recent releases. He sets off after a day spent tweaking the mix of the new Beatnik
production and gets a bit lost in Southwark trying to find the radio station. Once located
he films incognito as he goes into the studio and gets ready to be on air with Drive Time
host Yasmeen and fellow guest Dj Viper G. Statis' track choices were All Saints - One Strike
(Beatnik Remix) and Major Lazer - Light it up feat Nyla & Fuse ODG (Remix). The show is a
great success and loads of fun and you can hear the edited down version in the video or
the full 30 minute show on the Talk Radio website.








Beatnik Vlog 009 - Quick Test Master & Nexus/Android Phones

After two days of writing and recording with an artists Statis is back working in the studio
trying to get time to finish a track he recorded recently with a British rapper. He does a
quick test master on the track ready to test out in his Dj set before sending the final mix
down to a mastering engineer. While doing this his beloved Nexus 4 phone that he has had for
three years finally dies so he gives a quick explanation about where his love for android
and the Nexus range came from and tries to decide whether the Nexus 5x should be his next
phone. Statis also gives us a quick view of his cactus family that he is trying not to kill!








Beatnik Vlog 008 - The London Marathon & Location Hunting

Statis sets off to make good use of his first Sunday morning location hunting for a video.
However he was completely unaware that the London Marathon was happening and that the area
would be flooded with people from all over the world. He made an attempt at finding the
locations but due to the length of time it took moving or getting from one side of the Marathon
to the other he ended up abandoning most of the places he had planned to scout out and just
vlogged the goings on that day! It was a very happy and enjoyable day to be in London with
so many excited and upbeat people everywhere enjoying themselves,
London should be like that every day!








Beatnik Vlog 007 - Shoreditch Street Art, Dj Equipment
Overview & BLAST Live Perfomances

Statis begins this vlog playing a game of tennis (badly) before running to a meeting in Shoreditch,
East London. On his way back he passes the Hoxton Pony which has been the home of
FashBashSoundClash for nearly 10 years. Statis quickly shoots loads of the street art in the area
and interjects these images between his set up and preparation for his Dj set that night. While
importing new tracks into Serato he does a quick overview of his home DJ set up and explains a
few of the most important pieces of equipment. The vlog finishes with Statis filming a few of
the performances at club that night on his phone in between djing: Firstly Nay Nay performs
her huge UK garage hit 'Architechs ft Nana - Body Groove' and this is followed up by 2 routines
from our monthly Good Times dance spectacular!








Beatnik Vlog 006 - Rolling Stones Exhibitionism,
Saatchi Gallery, Kings Road & Organic Lamb Curry

After a quick stroll around Greenwich park Statis headed over to Chelsea to one of his favourite
places, the Saatchi Art Gallery on the Kings Road. A usual Sunday haunt of his he was surprised
to find that for once entry was not free and unusually was also ticketed. Sadly he had not
planned ahead and so was ticketless and after finding out the extortionate price of admission
he decided to turn tail and do something else for the day! After a jaunt around some of the
shops of the Kings Road, a quick trip down memory lane, a bite to eat and some time taken
for car/architecture appreciation a quick stop off into an organic sueprmarket was required
to make sure there was something to cook for dinner. Organic lamb was the toast of the day
and then straight home to rustle up a feast of Lamb Curry and Chana Dahl. Check out the
amazing meal and don't forget to subscribe!!








Beatnik Vlog 005 - All Saints Live Show at Koko,
Flyer Drop in Peckham & Brockley Food Market

Statis takes a break from working and pops to Brockley food market to get some amazing food before
his mission of flyer drops around Peckham's Bussey building and Rye Wax. He then finishes off this
vlog installment by going to Koko in Camden to see Dj Nikki on stage as the All Saints perform
the first show of their comeback tour. We finish the night as Dj Nikki smashes up her set at
the after party which was filled with superstars from TV and music!








Beatnik Vlog 004 - BLAST & BoohooMAN Launch

Beatnik (Dj Nikki & Statis) show you inside their weekly Thursday night party BLAST at Rah Rah
Rooms on Piccadilly, London. This week was a very special event as it was held in conjunction
with the launch of BoohooMAN. There was an amazing mix of people from all walks of life as we
combined our usual mix of music, fashion and creative industry guests with all the celebrities
bloggers and TV personalities that Boohoo had invited. It was an amazing evening with
Dj Nikki & Statis joined on the decks by Melody Kane. Royston hosted on the mic introducing
live performances from Bugsy Malone and Raheem Bakare. We were also very pleased to be
celebrating Dwaynes from RnD Creatives' birthday! Check out loads of the photographs
of the night on the Beatnik Google+ page of the star studded guest list including:

Alesha Dixon, Aston Merrygold, Stooshe, Clement Marfo, Vicky Pattinson, Abi Clarke,
Jasmin Walia, Georgia Toffolo, Bianca Gascoigne, Dean Gaffney, Chris Fountain,
Ryan Connor, George Sampson, Junaid Ahmed, Lizzie Cundy, Zara Holland,
Vas Morgan, Mario (Towie), Tino Kamal and many, many more!








Beatnik Vlog 003 - Flyers & Cards Arrive & Beatnik Turn Up at BLAST

In the third blog Statis finally receives the flyers and business cards for their new night BLAST
at Rah Rah Rooms on Picadilly. He checks everything over and then does all the last minute
preparations for the event. Then he meets DJ Nikki after she has been at rehearsals all day
for the All Saints comeback tour and they head off to the club to start the night!








Beatnik Vlog 002 - Club Mailout & Important
DJ Items (You Wouldn't Expect)

Statis is back at his desk preparing for Beatnik's big event, doing the email mail out while
waiting for the flyers and business cards to arrive. He does a quick explanation of some
of the things sitting on his desk that are invaluable to Beatnik when they are working & DJing!








Beatnik Vlog 001 - All Saints One Strike Remix & Flyers,
Business Cards & Videos For BLAST

The first Beatnik Vlog 001 which covers our brand new remix for the All Saints of their comeback
single One Strike as well as our new night Blast which is every Thursday night. Statis Beatnik
takes you through all the brand and Logo designs as well as the preparation of flyers
& business cards to send to print and the brand animation videos to be displayed in the club.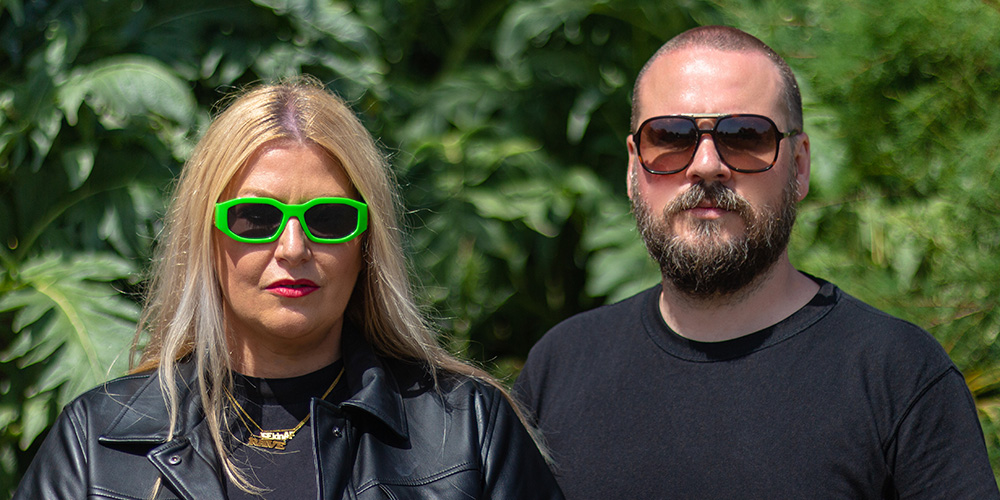 DJ NIKKI BEATNIK

Email
djnikki@beatniktv.com




BEATNIK

Beatnik are world renowned DJ & Production duo DJ Nikki & Statis.
After huge careers playing sets all over the world individually the
pair joined forces to write and produce stunning electronic music that
is taking the music industry by storm on both sides of the Atlantic!
Check out their back catalogue of infectious bass heavy, dance floor
filling smash hit productions and make sure to buy a track or become
part of the beatnik family by wearing the merchandise and coming down
to party at their resident clubs where you can party non stop to their
amazing DJ sets!

If you are interested in booking Beatnik contact


bookings@beatniktv.com












STATIS BEATNIK

Email
statis@beatniktv.com